jacket: macy's, dress: thrifted (well, actually free from a clothes swap. brand...?), tights: pacsun, platform ankle wedges: kmart, necklace: marshall's
:: This is the first and last day I will be wearing this little polka dot dress, due to a generous tear in the tush thanks to a little impromptu kickboxing match against the hubby while we waited for the camera battery to charge (in an outdoor outlet at the local YMCA) in between taking photos for this outfit ::
:: Eating mandarin oranges while driving. The dang nasty syrupy juice is filled to the brim of the little kiddie lunch cup. So when I peel back the lid, it just fills everywhere ::
:: After driving a '95 Chevy Blazer for much of my life, I forget that I'm actually currently in a baby car, a little Ford Focus, and I pass up tight spots. Then I'm shocked when I give 'em a go and fit with 3 feet on either side.
:: Dark Jeans. They're good at hiding mandarin oranges juice ::
:: Surprise Date from the hubby. Homegoods & Olive Garden. Oooo he knows how to to speak to me ::
:: The pizza guys dancing on the corner with the big $9.99 signs. Can I be you for a day? ::
:: Twitter pals, you already know this, but non-Twitter pals, I just have to tell you... the hubby and I booked a vacation at a Sandals resort in Jamaica for October 2012. Thanks to some solid budgeting and a whole lot of blessing. Ha. Woohoo!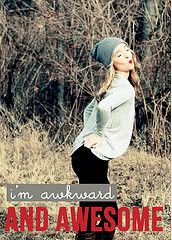 ^Awkward & Awesome post Inspired by Sydney of The Daybook^